PioneerTex's Patented GCCM Product-Concrete Mat Cloth-CMC.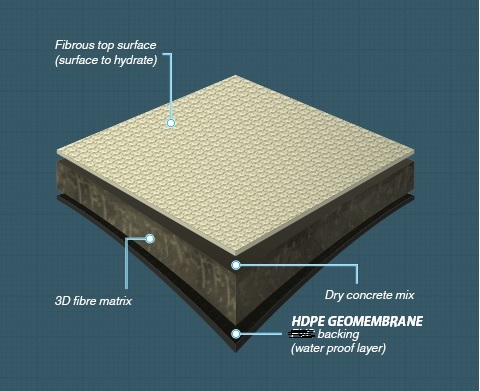 1. PTT Concrete Mat cloth (CMC) Geosynthetic Cementitious Composite Mat (GCCM) are a groundbreaking material technology that makes it possible to use concrete on slopes, in water, and in other hard-to-reach locations, without forms or mixing and minimal equipment requirements.
2. An engineered concrete in roll form, Concrete Mat Cloth GCCM is fabricated with a three-dimensional structure that reinforces the concrete, providing strength and durability. Concrete Mat Cloth GCCM can be quickly cut and secured in place, making it ideal for reinforcing or rehabilitating a culvert or drainage ditch, abutment, beam or other structure. Once hydrated, the cloth cures quickly to form rigid, durable and water-resistant 5,000 psi armor. The cloth remains flexible for up to two hours and is easily manipulated to fit the contours of irregular installations.
3.Unlike regular concrete, Concrete Mat Cloth materials can be installed in the rain and other wet conditions, virtually eliminating rescheduling due to weather conditions.
4.The material is available in a three thicknesses: CMC5- 5 mm, CMC8- 8 mm, and CMC13- 13 mm, and in two formats (roll sizes): bulk rolls or small man-potable batch rolls. The quantity per roll differs between the thicknesses, which can be found on the data sheet. All three thicknesses are available in bulk rolls.
Concrete Mat Cloth material has a low alkaline reserve and a low wash rate for a minimal ecological impact. The unique structure of Concrete Mat Cloth material facilitates ease of installation. The fabric can be hung vertically, laid in trenches, or cut and formed into shapes to create a durable layer of concrete, making it ideal for a variety of applications, including:
Ditch lining;
Erosion control;
Slope protection;
Beam protection;
Culvert lining;
Retaining Wall
PTT CMC is similar with

Concrete Canvas

made in UK, but different! However, PTT CMC

can do the sample thing as well as CCUK such as slope protection, ditch lining, or other civil

engineering projects.
PTT CMC GCCM have our own competitive advantage: tensile strength, compressive strength, tear strength are all higher than CCUK.
Standard Width: 2.1mts; and we can cut it into 1.05mts if you really need;
Roll Length: 20mts-25mts/Roll.
Thickness: 5mm,8mm,13mm,or to be made to customer's order.
Color: White color or make to order such as green or grey color etc.
How to Install CMC GCCM product?

Can you please kindly visit below link for details?
Please kindly contact us to get the data sheet and quotation sheet if you are interested!

Thank you very much!